The Second Graduation Ceremony of Sheikh Fazilatunnessa Mujib Memorial KPJ Specialized Hospital and Nursing College
20 Mar 2023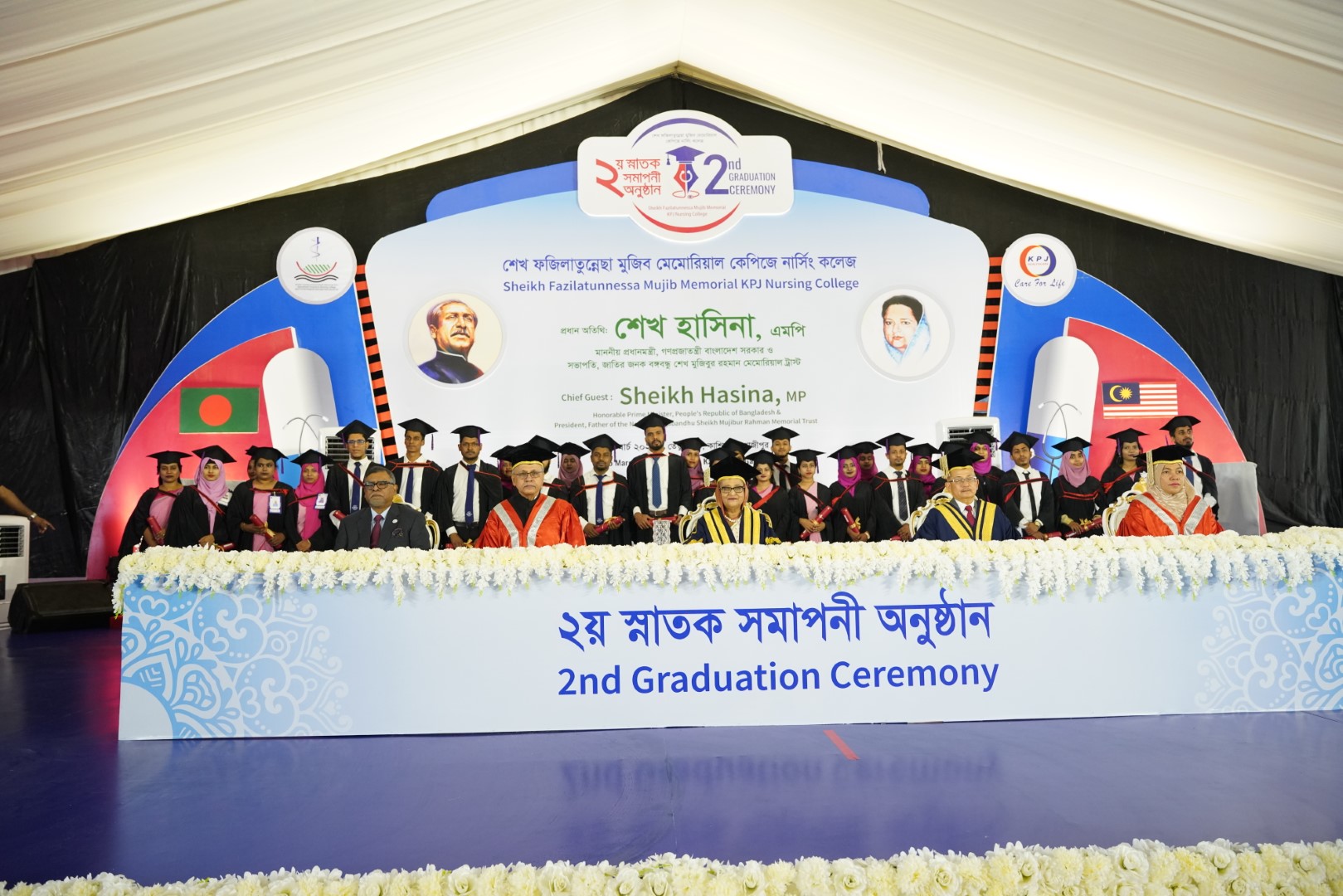 The Second Graduation Ceremony of Sheikh Fazilatunnessa Mujib Memorial KPJ Specialized Hospital and Nursing College was held on 15 March 2023 at its own campus at Kashimpur in Gazipur.
Prime Minister Sheikh Hasina speaks as Chief Guest at the ceremony among the graduates. Health and Family Welfare Minister Zahid Maleque and Governing Body chairman of Sheikh Fazilatunnessa Mujub Memorial KPJ Nursing College Major General Abdul Hafiz Mallik, Psc. (Retd.) were present at the stage.
Norhaizam Binti Mohammad, OIC of KPJ healthcare Berhad Malaysia addressed the function as graduation speaker while Chief Executive Officer (CEO) of the Sheikh Fazilatunnesa Mujib Memorial KPJ Specialised Hospital and Nursing College Mohd Taufik Bin Ismail delivered the welcome speech.
The nursing college students performed dance with a welcome song at the function.
The Prime Minister distributed certificates among the graduates. A total of 210 students successfully completed their graduation from the nursing college.
Three graduates from Basic BSc in Nursing – Fahima Khatun (session - 2015-2016) - Md.Rabby (session - 2016-2017) Sadia Islam Mansura (session - 2017-2018) received Prime Minister Medals for their outstanding results. From Post Basic B.Sc in Nursing, Hazera Khatun (session -2017-2018), Farida Parven (session -2018-2019), and Adlina P. Baidya (session - 2019-2020) received Prime Minister Medals. Anamul Haque, a student of the 2015-2016 academic session, also spoke on the occasion on behalf of the graduates.
The Prime Minister later joined a photo session with the graduates of the nursing college.